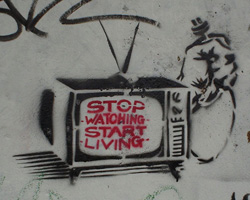 Being a card caring member of the evangelical church, I often hear the rant that America "has changed so much in the last so many years". The sense is that our cultural values have changed from innocence and honesty to selfishness and sexual promiscuity. It would be a good study to determine to what extent this perception is true, but, for now, let's assume that things have changed culturally. Why is this so?
The reason for this I believe is obvious. Capitalism caters to our appetites. Couple this basic fact with the rise of media in the home and in all our culture, and you end up with a culture that is immersed in images that cater to immediate gratification and our lowest selves. So, if you judge the culture by media and teenager fascination with all that is celebrated in the media, you will inevitably believe that the culture has radically changed.
Pop media is a tool of what sells, and what sells will always point to the least common denominator. I think it is best to realize that this "for the masses" approach is the way markets work. For a company to be BIG, it has to sell to all of us and appeal to what we all have in common. We all have in common our appetites and our weaknesses with respect to our appetites. Therefore, privately owned, profit driven media will necessarily and always target shallow and emotion driven content. Media has to be big to effect us all. Therefore, what effects us all will always be shallow and sexualized. That is just the way a profit driven media works.
Think about it. When I was a kid, we used the term "sell out". To sell out meant to go pop. To go pop means to change your content to sex. Competition has driven a rush to the bottom. Think about talk radio. The more black and white the discussion the higher the ratings. To succeed, a person has to be dumb enough to preach passion without nuance. Nuance and analysis doesn't sell.
So the moral to the story is that pop culture is simply a reflection of our appetites. What has changed is the volume of media not us. This process has been evolving for a long, long time. We haven't changed but the capitalist market has become a greater part of the cultural noise.
The solutions are simple. We need to fast from pop culture and media in the home. We all need to take back the home from the market place. We need to teach our children that what you see on TV and in pop culture by definition represents only what is the least common denominator of our nature. If we desire to have dignity and to stand above the crowd by being honorable men and women, we must become distinct from pop culture. We need to simply realize that all that media is the market not our identity. We are people not merely consumers.
enough for now,
peace, brad